Another great season for Tankerton F.C. Girls' and Women's teams
We saw:
Tankerton Girls U16s make Club history by becoming the first Tankerton youth team to reach a Kent County Cup Final (still to be played) – Team sponsor needed for next season.
Tankerton Girls U15s compete in the top division for the first time - Team sponsor needed for next season.
Tankerton Girls U13s battle it out at the top of division 2 and show an amazing growth in player numbers - now it's time to grow into two teams.
Tankerton Women's teams see a growth in numbers, compete in the Futsal league and enter a number of other tournaments.
Tankerton Wildcats is now up and running and is in its 3rd year, giving girls aged 5 to 11 years the chance to play football.
Tankerton Girls U16s
We could not be prouder of our U16s - to be the first youth team in the club's history ever to reach the final of an F.A. Youth County Cup competition is such an achievement. We knew the players were an amazing bunch when they won our club's first Kent Youth Trophy last season, but this achievement has surpassed even last year's cup win. The semi-final win will always live in the memory as one of the best team performances in the history of Tankerton Football Club; to beat the champions the way they did was incredible. Last year we described these players as legends and now they have surpassed even that accolade!
The team would like to say a massive thank you to our sponsors, Prints And Gifts and Ossies Fish Bar, for helping sponsor the girls with their Kent League kits, hoodies and rain jackets.
Tankerton Girls U15s
We are very proud of our U15s in the way they kept battling to the end in every league and cup game. Division 1 was always going to be competitive and the players and coaches should be so proud of their efforts. The commitment and potential of this team is limitless due to the special bond the players have with each other. They have so much talent in this team, with many different characters; they are so determined, hardworking and have a willingness to listen to the coach. There is no doubt they can achieve big things next season.
The team would also like to say a massive thank you to our sponsors, George Wilson Group, for their home and away kits the last two seasons.
Tankerton Girls U13s
We could not be more proud of our U13s and the growth in the squad has been incredible. The commitment of players, parents and coaches has been incredible and you could really see the bond of all, on and off the pitch. The players competed all season at the top of the league and there can be no doubt that, if the season hadn't finished prematurely, the girls would have finished near the top of the league. We are all looking forward to having two teams next year at this age group. The team would also like to say a massive thank you to our sponsors Millington Stove Installation and The Plough, Swalecliffe.
Tankerton Women's team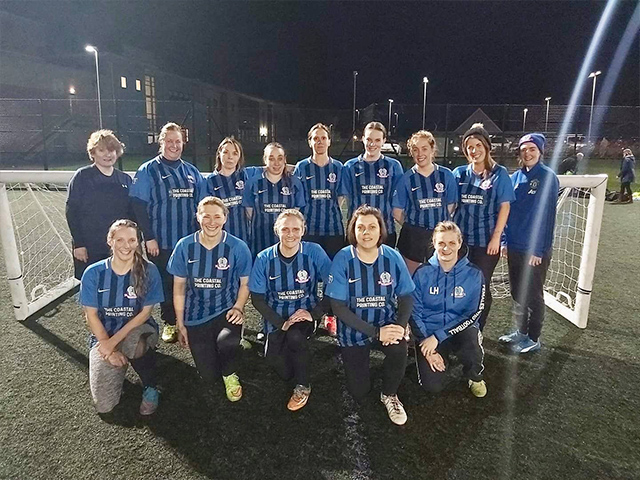 The women's improvement has been incredible and, with our coaching team behind them, the development of the players' skills has been evident. Plus, you could not meet a nicer bunch of players who love to play football every Wednesday at Seaview. The team is entering more and more tournaments and frequently enters the Sunday Futsal League.
Tankerton Wildcats
The women's game is growing and growing, and if you need any further evidence of this come and join us at Seaview! You will have the chance to see the joy and happiness of the girls playing football, which makes volunteering so worthwhile.
We train all summer, every Wednesday at Seaview, and new players are welcome:
Tankerton Wildcats for girls aged 5 to 11 years old, 5pm to 6pm
Tankerton Girls' training 11 to 16 years old, 6pm to 7.30pm
Tankerton Women's team, 8pm to 9pm
With the growth and success of girls' football at Tankerton FC we have created this fundraising page to raise money for the teams' new kits. The success of the girls' teams has been incredible, as highlighted by the U16s reaching the Kent F.A. County Final.
We are also looking for sponsorship for several of the girls' teams. If you could help either through a donation or even sponsoring a team's kit, that would be appreciated.
For more information, please contact: This email address is being protected from spambots. You need JavaScript enabled to view it.